Amazing moments in the history of the show begin in the first season episode "Duet" where Kira is forced to uncover a truth about a diseased Cardassian- the race she has lived her entire life hating. In this final scene, an incredible moment of clarity washes through her as she sees for the first time that hatred is not absolute.
The opening of the second season created another level of intrigue into the Star Trek realm and introduced a permanent political labyrinth which would evolve into a facet of the series and multidimensionalize Bajoran culture.
The second season also provided the audience with a glimpse into the lives affected by broad political change when a new treaty placed the lives of Federation citizens on the wrong side of the Cardassian border and were forced to leave their homes. This impactful development showed an ugly side to the usually pristene Federation and believably built a case for both sides of the coin that is terrorism.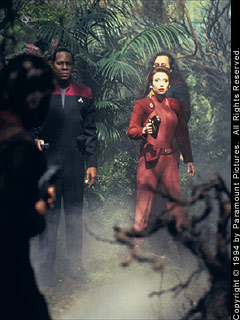 Following The Maquis two-parter which shows us that Earth is a paradise and the inhabitants have it easy because "It's easy to be a saint in paradise", we learn just how difficult life can be out on the fringe of space.
The next major event of DS9 is "The Jem'Hadar" when we meet the soldiers of the Dominion. I wouldn't want to give it all away but this marks the beginning of one of the most important stories to grace Star Trek and changes the face of everything and everyone on Deep Space Nine...
Aside from the Bajorans who become the true center of much of the plot for the early seasons and the Bar where countless happenings propel the development of characters, the backstory to Deep Space Nine is thoroughly impressive.

We have a Starfleet officer who lost his wife during the battle of Wolf 359- one of the most popular occurrences in the Trek universe from the third season TNG episode, "The Best of Both Worlds" in which the one and only Captain Jean Luc Picard is assimilated by the cybernetic race: The Borg.

Added is the Occupation of Bajor by the power-hungry and vicious Cardassians. A militant race of villains you love to hate. The spice of this history adds volumes to the types of political growth that the show allowed to underline the everchanging tapestry that was the final fronteir.
I have also begun working on a website that follows the Deep Space Nine: Relaunch books which are an unofficial eighth season to the series and continue the adventures of our favorite characters. Here is the link: