Welcome! I am Kevin from Queens, NY. I am 6'1 with brown hair and blue eyes (as you can see in the picture below)and I have made this site to reach out to the poor, the weak, the destitute of all complexions. So far, this site has helped:

0000019.3 People

On the following pages, you will see me. That is all.
Also some shows and quotes and monologues and things I love about theatre and my friends (once in a while) and the mysteries of the universe explained but nothing to write home about. If you do write home, don't let them know where I am.
I am a graduate of Queens College in Flushing NY where I was a Drama Major.I went to Archbishop Molloy HS- though other graduates in my year may disenown any knowledge of knowing me.
I am an aspiring actor! And in shows with heavy text, I am a perspiring actor. I love being on stage or in front of a camera... I feel comfortable there. Not necessarily the center of attention... maybe the off-center of attention... I have a subtly British humor about me. If you don't like that, then avoid the By Jeeves page since thats primarily what its all about... Please forgive me if humor crops up. Its the only thing I know how to do. I guess that kinda makes my Resume page pointless too...

Theatre is just what I love... everyone should have a passion. Or at least give in to it from time to time...
To purchase any of the materials supported by this site, go to www.getoffyourassandgettoastoreinsteadofbuyingonline.com. From sci-fi to movie musicals, anything you want can be found! How existential of me...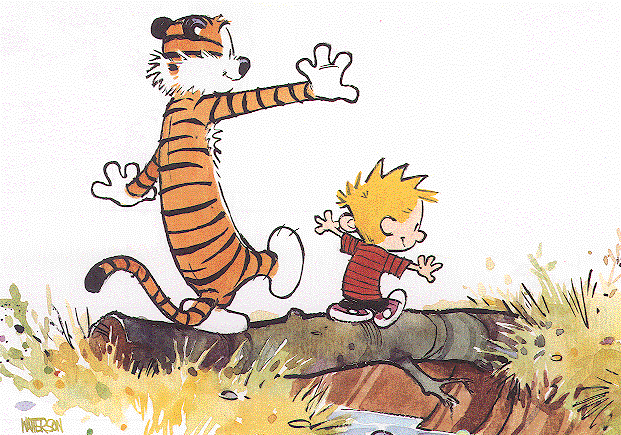 I also really love Calvin And Hobbes so you may see some pictures crop up here and there. I can just relate to the little guy so well... we both have VIN at the end of our names.